First, let's do our review of the past week. Over the past week, the market is down by a little less than 1%. This type of back-and-forth trading is to be expected as the market continues moving off its lows. Another sign that the market is normalizing can be found in the…
VIX continuing to move lower and also the daily ranges for the S&P 500 getting tighter.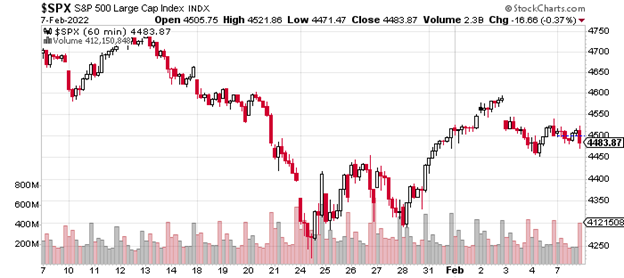 The last few commentaries have obsessed over the question of whether this is it in terms of the selloff or will there be another leg lower?
I don't think anything has materialized in the past week that is particularly meaningful on either side. So, our assessment from last week still stands: If this is a normal dip or pullback within a bull market, then we've generated sufficient oversold and extreme bearish readings that would result in a meaningful bottom.
If this is a correction or even a bear market, then we could see these lows retested or even undercut as the market is not really oversold or too bearish on longer-term timeframes.
Some Positives…
Over the past month, the tenor of these commentaries has been mostly cautious or negative which was appropriate given the weakness and risks in the market. Now, I believe these risks are much more balanced.
It doesn't mean that the market is going to straight up from here, but it does mean that it's time to start getting interested in the recent market dislocation in what I'm labeling as "hypergrowth" stocks.
The "hypergrowth" stocks are those whose prices only make sense based on assumptions that investors were making about years or even decades of growth. Of course, these fantasies were punctured by the reality of the market. Most of these stocks are down by more than 50% from their highs and some even more.
With today's purchase a leading healthcare IT stock, we are slowly dipping our toes back in the water. This company has many characteristics in common with some of the most successful growth stocks in history.
It has a great business, providing software for the healthcare, pharmaceutical, and life sciences industry, which is very high on the value chain.
Its end markets are likely to keep growing regardless of the broader economy. The company has high amounts of recurring revenue and a consistent pattern of growing revenue per user in addition to organic user growth.
This stock is currently down about 40% from its all-time highs. Given that it is one of the top healthcare IT stocks, and I'm confident that the stock price will be much higher in the future, I'm willing to add the stock even if I'm unconvinced that the bear market in "hypergrowth" stocks has ended.
Tweaking Our Strategy
Since we started this service last April…
Continue reading at STOCKNEWS.com