American companies are sitting on piles of cash, frustrating investors and leading some on Wall Street to wonder why they aren't spending.
Microsoft currently has the largest cash pile at $136.6 billion as of last quarter, according to…
estimates from FactSet. Berkshire Hathaway, Alphabet and Apple occupy the other top spots, with $128.2 billion, $121.2 billion, and $100.6 billion, respectively.
Facebook, Amazon, Ford, Oracle, Cisco and Bristol-Myers round out the rest of the top 10 list. These figures include the company's cash balance as well as its short-term investments such as bonds.
Companies can spend through traditional means like capital investment and acquisitions, as well as by returning money to shareholders through buybacks and dividends. Some argue that the latter — buybacks in particular — are a short-term boost for investors at the expense of the long-term health of the company and the economy more broadly.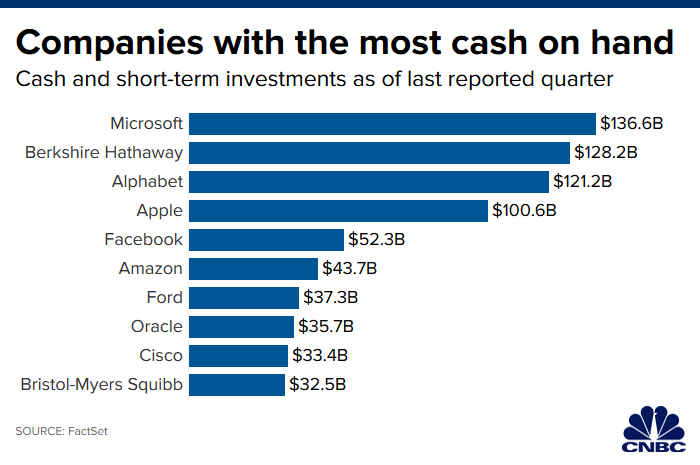 There are many possible reasons for why companies aren't spending more given their vast reserves, one of which is that they're simply waiting for the right time.
"I think acquisitions are something all of these companies are thinking about as we get further along in the cycle and they look for ways to keep their top-line growth accelerating," Nomura analyst Christopher Eberle told CNBC.
Tech companies especially like to sit on cash, Evercore's Lee Horowitz said, to keep "dry powder as a way to weather cyclical downturns" and to take advantage of market pullbacks to pick up assets.
That's not to say that these companies aren't spending at all. Ford, Cisco, Bristol-Myers, Oracle, Microsoft and Apple all currently pay a dividend, and all 10 companies apart from Amazon have bought back stock this year. But some analysts say it's not enough…
Continue reading at CNBC.com